भारतीय नौसेना में भर्ती: Indian Navy Sailor Entry MR Music Online Form 2019 full Information
Join Indian Navi Sailor Entry MR Music Online From 2019 | last Date | Salary | Eligibility | Admit card | Study Material and more.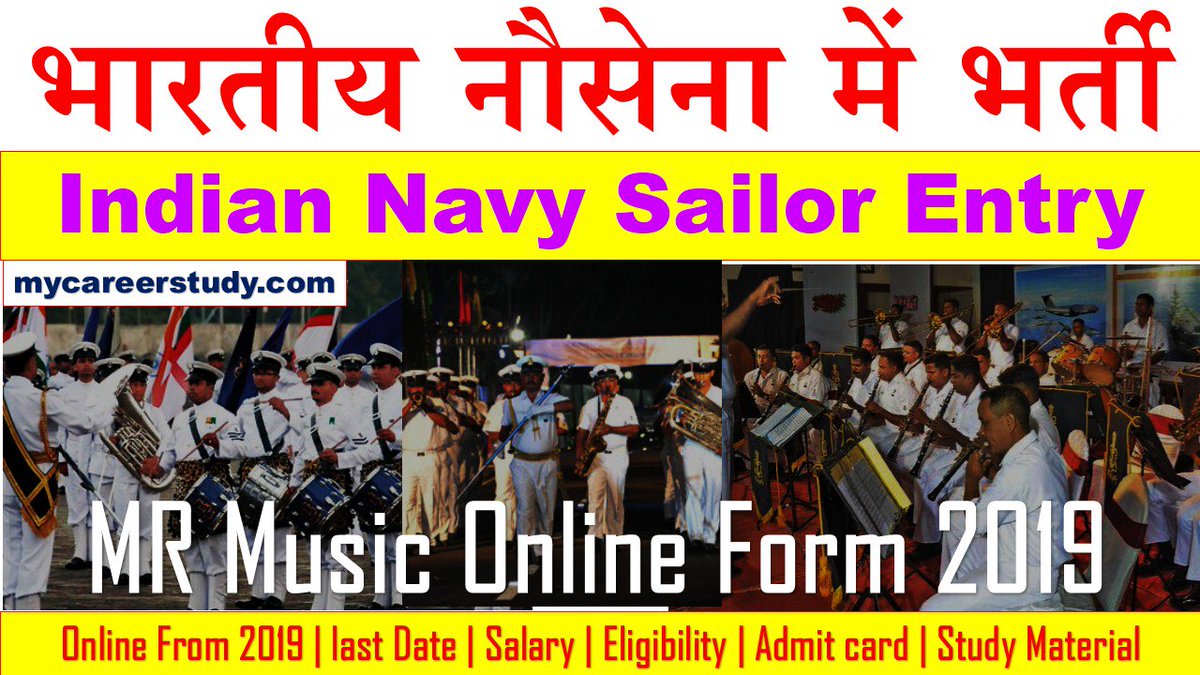 Indian MR bharti
Short Information About Navy New Post
Online applications are invited from unmarried male candidates who fulfill the conditions regarding the nationality as laid down by the Government of India. A widower or a person who has divorced his wife shall not be treated as an unmarried male for the purpose of this regulation.
Educational Qualification
Candidate must have passed Matriculation Examination from the Boards of School Education recognised by MHRD, Govt. of India.
Age
Candidates should be born between 01 Oct 1994 to 30 Sep 2002 (Both dates inclusive). No age relaxation is permissible.
Musical Ability
Selection is on Merit basis only. The candidate should have proficiency in Aural Aptitude for music with accuracy in Tempo, Pitch and singing one complete song. Should also have actual practical skill on any instrument of Indian or foreign origin with proficiency in tuning of instrument, matching unknown notes with instrument, prepared piece, sight reading of Indian Classical/ Tabulature/ Staff Notation, performance of Scale/ Raaga/ Taala and basic theory of Indian or International music.
Type of Instruments on which Proficiency Required
The candidates would be required to perform with expertise on one or more instruments such as Keyboard/ String/ Wind instruments or any other instrument of Indian or Foreign origin. Candidates performing on Indefinite Pitch Instruments such as Jazz Drums set, Brass Drum, Snare Drums, Side Drums, Cymbals, Non Chromatic instruments such as Bugle & monotone instruments used to produce only one note or drone will not be eligible for recruitment.
Musical Experience Certificate.
(a) Candidates performing Hindustani or Carnatic Classical music on Wind Instruments will require a musical experience certificate from any musical Institute or organization of repute.

(b) A certificate of minimum Initial Grade from International Boards such as Trinity College of Music, London or Royal School of Music, London will be mandatory for candidates performing western notation or western music on Wind Instruments.

(c) Other candidates will be required to submit certificates of participation/ awards presented at various events.
PAY AND PERQUISITES
Pay & Allowances. 
During the initial training period, a stipend of Rs.14,600/- per month will be admissible. On successful completion of initial training, they will be placed in Level 3 of the Defence Pay Matrix (21,700-  69,100). In addition, they will be paid MSP @ ₹ 5200/- per month plus DA (as applicable).
Promotion
Promotion prospects exist up to the rank of Master Chief Petty Officer-I, i.e. Level 8 of the Defence Pay Matrix (47,600- 1, 51,100) plus MSP @ 5200/- per month plus DA (as applicable). Opportunities for promotion to commissioned officer also exist for those who perform well and qualify the prescribed examinations.
Perquisites
(a) During the entire period of training and thereafter, sailors are given musical instruments, books, reading material, uniforms, food and accommodation etc. free of cost.

(b) Sailors are entitled to medical treatment, Leave Travel Concessions for self and dependents, Group Housing Benefits and other privileges. Sailors are also entitled to Annual and Casual Leave, Children Education and House Rent Allowances. Post retirement benefits include pension, gratuity and Leave encashment. All perquisites are extended as per service conditions and their eligibility/admissibility is regulated as per government orders in force and amended from time to time.
Insurance Cover
Insurance cover (on contribution) of Rs 50 lakhs for all sailors is applicable.
SELECTION CRITERIA
Selection of recruits is based on the order of merit on their performance in Preliminary Screening Board and Final Screening Board. Preliminary Screening Board will be conducted in two phases. In the first phase, verification of age, education qualification, music certificates and musical ability of the candidate will be assessed. The candidates who are suitable to undertake final test will be subjected to the second phase of PSB. In the second phase, physical fitness test and initial recruitment medical examination will be conducted.

(a) The Preliminary Screening Board is tentatively to be held from 06 to 10 July 2019.

(b) Those who qualify the Preliminary Screening Board will be required to undergo a Final Screening Board. All qualified candidates will be called to INS Kunjali, Colaba, Mumbai for final screening test, final medical examination and selection on All India Basis tentatively scheduled from 03 to 06 September 
Physical Fitness Test (PFT)
(a) Qualifying in Physical Fitness Test is mandatory for selection.
(b) PFT will consist of 1.6 Km run to be completed in 7 minutes, 20 squat ups (Uthak Baithak) and 10 Push-ups. Candidates undergoing PFT will do so at their own risk.
Note: Photograph. THE PHOTOGRAPH TO BE UPLOADED SHOULD BE OF GOOD QUALITY WITH BLUE BACKGROUND.
Important Dates

Application Begin : 06/05/2019

Last Date for Apply Online : 19/05/2019

Last Date Complete Form : 19/05/2019

Exam Date : 06-10 July 2019

Admit Card Available : June 2019

Exam Fees

SC / ST : 0/-

No Application for the MR Application Form in All Category Only Fill Online Form
Apply Online

Click here

Download Admit Card

Click here

 

Download Result (Final Result & Merit)

Notification

Click here

Official Site

Click here
Take a look at Given Links